Shearers Payroll and Debtors System
Shearers Payroll and Debtors System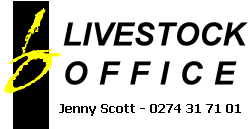 Developed in association with Livestock Office
Visit www.livestockoffice.co.nz for more information
Totally integrated payroll and accounting package including modules of payroll, debtors, stock and cashbook.
Software developed in New Zealand for New Zealanders and New Zealand conditions
Suitable for the Shearing Industry, and adaptable to other contracting enterprises e.g. forestry, packing sheds, vineyards, transport industry and staff recruitment to name a few.
Standard modules are Payroll, Debtors, Stock and Cashbook. Creditors and Cheque Writer are optional extras
The program is totally integrated i.e. one entry of data updates all modules
Unlimited rates, personal staff rates
Draws, advances & stores
Stock control
Debtors open invoice
Complete cashbook
Totally integrated
Bank software supported
IR file
User friendly
Support and backup provided
Aged trial balance
Control Account report
Invoice / Payments and GST reports
Historical Statement can be printed
Clients and product sales reports
Gross profits reports per invoice
Unlimited Staff Records
Unlimited pay rates, before-tax allowances, after-tax allowances and deductions
Special rates calculations for shearers and shedhands
Features in place to allow % rates increases / decreases of rates for live-in etc.
Features in place to allow Bonus % payments of top of current rates per job
Automatic PAYE, student loan and earners premium calculations
Holiday and sick leave calculations
Automatic holiday payments for casual staff
Notepad (history) for each staff member
Direct credit to bank
Pays can be allocated to Departments
Year to date Payslip lookup
Staff / Client / Rates history by date
PAYE formulas can be edited or new one added
Direct credit file for banking can be created (.afi file)
IR file created (.csv file)
Staff current account (draws / purchases)
View / add new staff details from within payslip screen
View / add staff personal rates from within payslip screen
View / add staff notes (history) from within payslip screen
Integrated to invoicing and debtors system and Cashbook
Automatic Accounts printing for Farmers (Debtors)
View / print GP% per tally sheet
Quick payslip report (during the pay period) of Gross, current PAYE, 40% amount for deductions, current account status
Payslip can be printed on plain paper
Name and address of Staff place so payslip fits in window envelope
Payslip Summary reports with analysis
PAYE reports
Holiday leave reports
IR348 Monthly Schedule report ? IRD approved report
Deductions, Allownaces reports
Department report
Statistics reports
Year to date reports for pays, PAYE, allowances, deductions, holidays etc
Keep all details of Client and sales history
Make invoices, credit notes, journals and quotes
Full Stock Module to keep codes, descriptions and price to charge
Text file to import frequently used text
Keep history of all invoices and payments
More than one period can be worked on at the same time
Open invoice system keeps invoices open until finished
Gross product by product and client
Client invoice condensed into one entry per work codes
View / print all entries for each work code
Monthly roll over
No limits to number of transactions and number of posting codes
Alpha or numeric or combination for codes
GST rate setup facility for individual posting code, from zero to maximum
Names code file to speed up transaction entry
Automatic payments can be entered for weekly, fortnightly or monthly
Ninety-nine bank accounts can be operated
Lookup, edit facility for any transaction by transaction number, date or name codes
Running Cashbook, bank and GST totals can be entered for Profit and Loss report
Transfer funds between banks
Create bank deposit slip
Clear and reconcile transactions against bank statements
Transactions can be posted to department codes also
Single entry updates Debtors
Journal codes (posting codes) summary and detailed reports by date for selected codes
GST report between two dates
Bank reconciliation between two dates
Profit and Loss report between two dates, GST inclusive or exclusive
Assets and liability report
Budget and last year comparisons
Cashflow report between two dates
Bank deposit slip can be printed, one for the bank and one for office copy
Cheques on hold report
Automatic payments report
Names codes report
Journal codes (posting codes) report
Report by department codes
Cheques can be printed (optional)
Some reports can be imported into Excel, Lotus and other programs